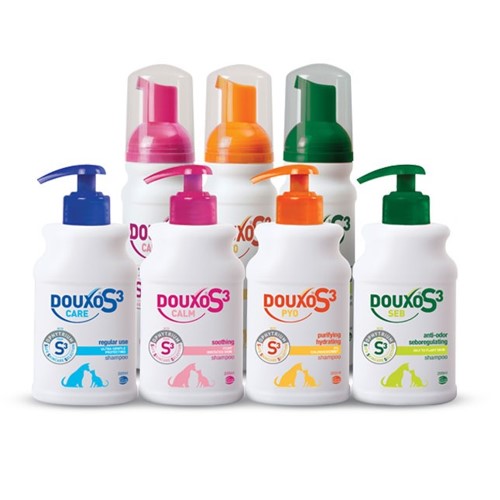 Origin created the new DOUXO S3 family/umbrella brand for Ceva alongside the ingredient names Ophytrium and Seboliance for their portfolio of derma-topical products.
The DOUXO S3 range was developed to answer concerns and needs for owners of pets with oily or flaky skin. The new family name S3 represents innovation and stands for "safe", "skincare" and "selection". DOUXO S3 is "safe" as it is proven to be well tolerated on both normal and irritated skin. "Skincare" stands for proven efficacy on the three skin barriers while the new bottles and formulations ensure customer satisfaction. Finally, "selection" demonstrates that Ceva has "selected" an innovative, new active ingredient whilst simplifying the range to make product selection easier.
The products are free from soap, parabens, sulphates, phthalates, colourants and nanoparticles.
The DOUXO S3 SEB product features Ophytrium and Seboliance and includes the natural extract from the peel of Punica granatum (pomegranate).
Smooth transition
The old product range will transition easily into the new range. DOUXO S3 shampoo and mousses will automatically replace the current DOUXO products and Ceva is working to convert other products in the DOUXO range to S3; these will continue to be produced in their original forms until they are developed into S3.